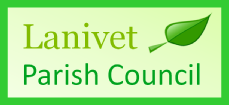 Facebook
A Facebook page for the Parish Council will be available soon.
Reporting Highway Issues
If residents would like to report highway issues direct to us when they are identified they are most welcome of if you would like to action as soon as possible, rather than saving them for the Parish Council Meeting, they can use the email address provided below, or alternatively they can report it on line at this link http://www.cornwall.gov.uk/report-it/ or call 0300 1234 222.
Grow Nature Seed Fund
A few of you may have come across the Grow Nature Seed Fund, which is now live,
The fund is a Crowdfund- based pot of money designed for community groups and organisations to access through match funding for small scale projects that help create more space for nature on publically accessible land within local communities.
There is £10,000 available which can be applied for with up to £500 available per project on a match fund basis.
Please see the attached Seed Fund Flyer leaflet, could you please circulate this to your contacts including town and parish councils, community groups, Community Network Panels etc
Further details and eligibility criteria can be found at the Grow Nature Seed Fund Crowdfunder page https://www.crowdfunder.co.uk/funds/crowdfund-cornwall/extra-funding
If you have any queries please don't hesitate to get in touch.
Rich Haycock, Project Development Officer, Strategic Environment Team, Environment Service, Neighbourhood Directorate, Cornwall Council, p: 01872 224316, m: 07973497293, Internal: 504316
Photos for the Website
If residents of the Lanivet Parish have any good photos of the area for the tourism leaflet and the website please could they be forward to Julie at clerk@lanivetparishcouncil.gov.uk
We request photos which local residents think represent easily recognisable areas of the Parish.